Take the emotion out of trading
What Goes Into Trading Strategies
Create or choose automatic trading strategies on CoinLion® with just a few taps. The strategies you subscribe to, or create, use a number of different "rules". How much are you going to put toward a particular strategy? Are you wanting to be more aggressive, or conservative? The choice is yours. You can even choose one strategy, or many. Check out a few of the rules that can be used in strategies below.
Here are a few of the rules that can be used in strategies
Various Market Signals (RSI, Stochastic, etc.)
Buy and Sell Signals (with pause and resume indicators)
Max Open Positions Per Strategy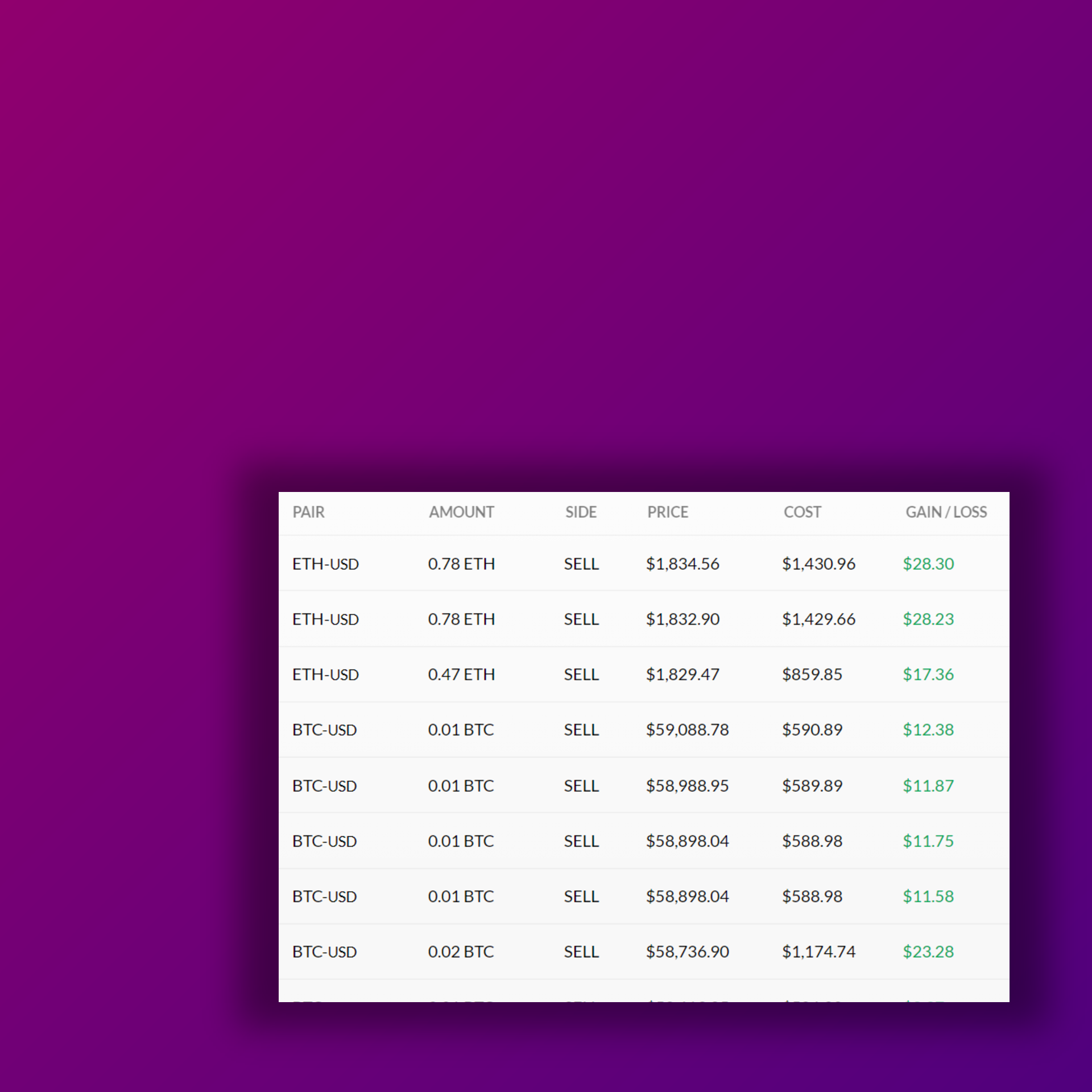 Small Profits… Again and Again
Here a little. There a little.
The CoinLion Auto-Trader allows you to take small profits at a time… over and over again. Small profits, taken often, create large gains over time. And while this is great in a bull market, it especially shines in a "sideways" market where ups and downs are smaller, but frequent.
Account Size and Risk Tolerance
As cryptocurrency builds acceptance, we'd consider all crypto trading strategies a little aggressive, even "conservative" ones. But that's why you're here — you're willing to take some risk. Here are some common differences between conservative, moderate, and aggressive strategies, and how your account size may impact what's traded.
Conservative Strategies Often…
→ Have lower take profits, meaning trades close quicker
→ Leave more USD on the sidelines, rather than opening positions
→ Have higher number of max positions, which leads to smaller trade sizes
→ Use longer cooldowns, which means it will wait longer between orders
→ Looks at conservative market indicator values that trigger buys
Moderate Strategies Often…
→ Take profits, set between our conservative and aggressive models
→ Leave less USD on the sidelines, and opens more positions
→ Open more positions than conservative models, but less than aggressive models
→ Have shorter cooldowns (wait times between orders) than conservative strategies
→ Use moderate market indicator values that trigger buys
Aggressive Strategies Often…
→ Have higher take profit goals
→ Leave very little USD on the sidelines and puts most of your cash "to work"
→ Have fewer max positions, leading to larger position sizes
→ Use shorter cooldowns (wait times between orders)
→ Use aggressive market indicator values that trigger buys
Account Size Impact
Big or small, there's a strategy for that.
As your account size grows, the flexibility in what your trading strategies can do grows as well. You'll be able to open a mix of large and small positions, trade higher valued coins, and open more positions overall. This gives you more chances to buy and sell at different price points.
CoinLion Auto-Trader
Trade Crypto Like The Pros
Learning about cryptocurrency is overwhelming, but you don't need to miss out on market opportunity. Start trading right now with the CoinLion Auto-Trader.